Why Are People Choosing a Business Management Degree in UAE?
September 2, 2023
2023-09-04 10:41
Why Are People Choosing a Business Management Degree in UAE?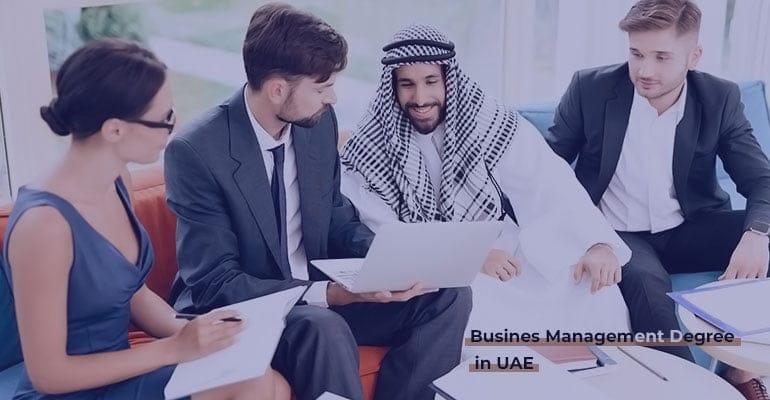 Why Are People Choosing a Business Management Degree in UAE?
A "Business Management degree in the UAE", like in many other countries, typically refers to an undergraduate or postgraduate program that focuses on the principles and practices of managing and running businesses and organizations. The specific content and structure of such programs can vary from one university to another, but they generally cover a range of business-related subjects.
The demand of Business Management Degree in UAE
The demand for a "Business Management Degree in the UAE (United Arab Emirates)" has been consistently high, driven by various factors specific to the region. Here are some key reasons why there is a strong demand for Business Management Degrees in the UAE:
Economic Growth
The UAE has experienced significant economic growth and diversification in recent years, with a focus on sectors like finance, tourism, real estate, and technology. This growth has created a demand for business professionals who can help manage and sustain these industries.
Business Hub
Dubai and Abu Dhabi, in particular, have established themselves as major business and financial hubs not only in the Middle East but also on a global scale. This has led to a need for skilled business managers and leaders to oversee operations in these cities.
Entrepreneurship
The UAE government has been actively promoting entrepreneurship and innovation, leading to a surge in startups and small businesses. Business graduates with leadership skills (How an MBA Enhances Your Leadership Skills?) are sought after to contribute to this thriving ecosystem.
International Business
Due to its strategic geographical location, the UAE serves as a gateway for businesses looking to expand into the Middle East and beyond. Companies operating in the UAE require professionals with international business knowledge and expertise.
Tourism and Hospitality
The UAE is a popular tourist destination, and the hospitality industry is a significant contributor to the economy. Business graduates with expertise in hospitality management are in demand to support this sector.
Financial Services
The UAE has a growing financial services sector, including banking, investment, and insurance. Business management professionals with financial expertise are essential in this industry.
Real Estate and Construction
The real estate and construction sectors have seen substantial growth, with numerous development projects in the UAE. Business graduates are needed to manage these projects and organizations.
Diverse Workforce
The UAE's diverse population and expatriate workforce require professionals who can navigate cultural differences and manage multicultural teams effectively. Consequently, business management graduates often possess these skills.
Government Initiatives
The UAE government has launched various initiatives to promote education and skill development; as a result, they have introduced scholarships and partnerships with international universities. Consequently, this has contributed to an increased interest in pursuing Business Management Degrees.
Career Advancement
In the UAE, individuals often seek advanced degrees and professional qualifications to advance their careers and secure better job opportunities; consequently, Business Management Degrees have become a popular choice.
14 Career Opportunities with a Business Management Degree in UAE
A Business Management degree opens up a wide range of career opportunities in the UAE, a country known for its diverse and rapidly growing economy. The UAE offers a favorable business environment, tax incentives, and a multicultural workforce, making it an attractive destination for professionals in various fields. Here are some career opportunities you can explore with a Business Management degree in the UAE:
Business Manager

As the title suggests, you can work as a manager in various industries, overseeing operations, finances, and strategy. This role can be found in sectors such as retail, hospitality, manufacturing, and more.

Human Resources Manager

With a focus on people management, you can work in HR departments, handling recruitment, employee relations, training, and development.

Marketing Manager

The UAE's vibrant consumer market offers ample opportunities in marketing and advertising. Within this context, you can manage marketing campaigns, branding, and market research for companies. Moreover,

Finance Manager

Financial management is crucial in all businesses. You can work in accounting, finance, or investment management roles, helping organizations make sound financial decisions.

Sales Manager

The UAE is a hub for sales and trade. Sales managers are needed to lead sales teams, develop strategies, and meet revenue targets.

Supply Chain Manager

With the UAE's focus on logistics and trade, supply chain management is a thriving field. Consequently, you can work in roles related to procurement, inventory management, and logistics.

Entrepreneurship

The UAE encourages entrepreneurship with various free zones and startup hubs. You can start your own business or join a startup in various capacities, such as a co-founder, business developer, or strategist.

Consulting

Management consultants are in demand to provide expertise and advice to businesses. You can work for consulting firms or as an independent consultant.

Hospitality Management

With its booming tourism industry, the UAE offers opportunities in hotel and restaurant management, event planning, and tourism-related businesses.

Real Estate Management

The UAE has a thriving real estate market. Furthermore, you can pursue career opportunities in property management, engage in real estate development, or work as a real estate agent.

International Business

Given its strategic location, the UAE is a hub for international trade. Consequently, you can work in international business roles, managing global operations and partnerships.

Government and Public Sector

The UAE government also hires professionals with business management skills in various departments, including economic development, trade, and tourism.

Education and Training

You can become a lecturer or trainer in business-related courses at universities, colleges, or training institutions.

Non-profit and NGOs

If you are interested in social impact, non-profit organizations and NGOs also require business acumen in roles related to program management, fundraising, and operations.
Conclusion:
In conclusion, it can be stated that the statement highlights how earning a Business Management Degree opens doors to a wide range of career opportunities within the thriving business environment of the UAE. These opportunities can span across sectors such as finance, marketing, hospitality, real estate, technology, and more, making it an attractive choice for individuals looking to build a successful career in the region.