How an MBA Enhances Your Leadership Skills?
January 20, 2022
2023-09-04 10:42
How an MBA Enhances Your Leadership Skills?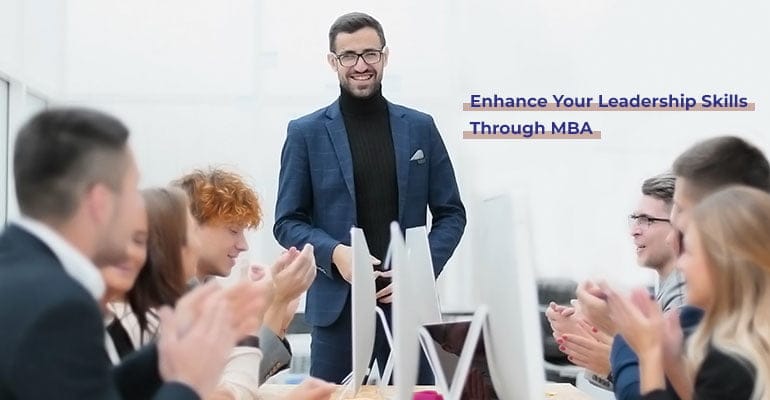 How an MBA Enhances Your Leadership Skills?
In today's rapidly evolving business landscape, effective leadership is more crucial than ever. As companies navigate complex challenges and pursue ambitious goals, strong leadership skills become a differentiating factor in achieving success. One proven path to developing and enhancing these skills is through pursuing a Master of Business Administration (MBA) degree. An MBA not only equips professionals with a comprehensive understanding of business principles but also serves as a powerful catalyst for refining and honing leadership capabilities. In this blog post, we will explore how an MBA program can significantly enhance your leadership skills and propel your career forward.
What is the Relation between MBA and Leadership?
MBA (Master of Business Administration) programs often emphasize leadership as a core component of their curriculum. Leadership is a crucial skill for effective management and decision-making within business organizations. The relationship between MBA and leadership can be understood in the following ways:
Leadership Development:
Many MBA programs offer courses, workshops, and experiential learning Opportunities focus on leadership development. These components help students develop essential leadership skills such as communication, team building, conflict resolution, strategic thinking, and decision-making.
Theory and Concepts:
MBA programs often introduce students to various leadership theories and concepts, providing them with a solid understanding of different leadership styles and approaches. This knowledge equips MBA graduates with the ability to analyze situations and adapt their leadership style to different contexts.
Case Studies:
MBA programs frequently use case studies to teach students about real-world business challenges and how leaders have navigated them. By examining these cases, students can gain insights into effective leadership strategies and learn from both successes and failures.
Networking Opportunities:
MBA programs bring together individuals from diverse backgrounds and industries. This diverse environment provides opportunities for students to interact with and learn from their peers, fostering the development of leadership skills through collaboration, communication, and relationship-building.
Practical Experience:
Many MBA programs offer internships, consulting projects, and other hands-on experiences that allow students to apply leadership principles in real business settings. These practical experiences help students hone their leadership skills in a practical and tangible way.
Personal Growth:
Pursuing an MBA can also contribute to personal growth and self-awareness, which are essential aspects of effective leadership. Through introspection and self-assessment, students can better understand their strengths, weaknesses, values, and leadership style.
Career Opportunities:
An MBA can open doors to leadership positions in various industries and sectors. Many organizations value candidates with an MBA degree for their leadership potential and ability to contribute to the strategic direction of the company.
Global Perspective:
Many MBA programs have a global focus, exposing students to international business environments and cultural diversity. This exposure enhances students' ability to lead in a globalized world and manage teams with diverse backgrounds.
Gain Leadership Skills Through MBA
Gaining leadership skills through an MBA program involves a combination of structured learning, practical experiences, self-assessment, and personal development. Here are some steps you can take to enhance your leadership skills during your MBA journey:
Choose a Leadership-Focused Program:

Research and select an MBA program that offers a strong focus on leadership development. Look for programs that offer relevant courses, workshops, and opportunities to practice leadership skills.

Take Leadership Courses:

Enroll in courses specifically designed to teach leadership skills. These courses may cover topics such as organizational behavior, leadership theory, team dynamics, communication, negotiation, and conflict resolution.

Participate in Experiential Learning:

Engage in experiential learning opportunities, such as case studies, simulations, and group projects. These activities allow you to apply leadership concepts in practical situations and learn from real-world scenarios.

Join Leadership Development Workshops:

Participate in workshops and seminars focused on leadership development. These workshops often provide hands-on activities, role-playing exercises, and discussions that help you practice and refine your leadership skills.

Engage in Team Projects:

Collaborate on team projects within your MBA program. Leading and working within diverse teams will help you develop skills in communication, conflict resolution, and team dynamics.

Seek Mentorship:

Identify faculty members, alumni, or industry professionals who can serve as mentors and guide you in your leadership development journey. Their insights and experiences can provide valuable perspectives on effective leadership.

Participate in Student Organizations:

Join leadership-oriented student clubs or organizations. These groups often organize events, workshops, and networking opportunities that allow you to interact with like-minded peers and learn from each other.

Reflect and Self-Assess:

Regularly reflect on your experiences and assess your leadership strengths and areas for improvement. Self-awareness is essential for effective leadership development.

Practice Effective Communication:

Focus on improving your communication skills, both written and verbal. Leadership involves clear and persuasive communication to convey ideas, goals, and expectations to your team.

Embrace Feedback:

Be open to receiving feedback from peers, professors, mentors, and colleagues. Constructive feedback can help you identify areas where you can enhance your leadership abilities.

Take Initiative:

Look for opportunities to take on leadership roles in class projects, extracurricular activities, or community initiatives. Proactively seeking leadership responsibilities will provide practical experience and showcase your skills.

Attend Leadership Conferences and Seminars:

Attend industry conferences, seminars, and events focused on leadership and management. These events expose you to different leadership approaches and allow you to learn from established leaders.

Apply Learning to Internships and Jobs:

During internships or part-time jobs, apply the leadership principles and skills you've learned in your MBA program. This hands-on experience will deepen your understanding and refine your abilities.
Conclusion:
An MBA program enhances leadership skills by providing a comprehensive education that combines theoretical knowledge with practical experiences. Through rigorous coursework, case studies, and real-world projects, an MBA equips individuals with the skills and mindset needed to excel in leadership roles. Graduates develop strategic thinking, effective communication, decision-making prowess, and the ability to navigate complex business challenges. Moreover, exposure to diverse perspectives and networking opportunities fosters collaboration and a global outlook. Overall, an MBA empowers individuals to lead with confidence, adaptability, and a holistic understanding of organizational dynamics, making them effective and influential leaders in various professional settings.