MBA Healthcare Management Salary in UAE
September 2, 2023
2023-10-10 8:30
MBA Healthcare Management Salary in UAE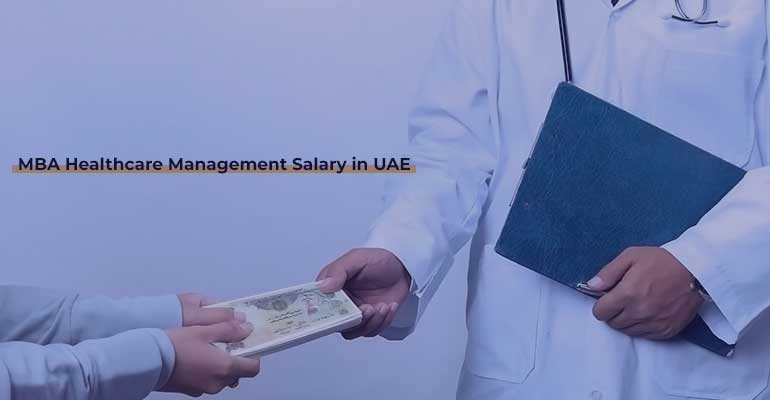 MBA Healthcare Management Salary in UAE
MBA Healthcare Management Salary: The United Arab Emirates (UAE) has witnessed a remarkable transformation in its healthcare sector over the past few decades. With state-of-the-art medical facilities, cutting-edge technology, and a growing emphasis on quality healthcare services, the demand for skilled healthcare management professionals has never been higher. Pursuing an MBA in Healthcare Management in the UAE can pave the way for a lucrative and rewarding career.
Salaries and Career Prospects for MBA Healthcare Management Graduates in the UAE
In this blog, we will explore the salary prospects and key factors influencing the earnings of MBA Healthcare Management graduates in the UAE.
Demand for Healthcare Managers

The UAE's healthcare sector is expanding rapidly, with the government investing heavily in infrastructure and services. This growth has led to an increased demand for qualified professionals to manage and optimize healthcare facilities efficiently. As a result, MBA Healthcare Management graduates are in high demand.

Salary Range

The salary of MBA Healthcare Management professionals in the UAE can vary significantly depending on several factors, including the level of experience, the specific healthcare facility, and the region. On average, entry-level professionals can expect to earn around AED 120,000 to AED 200,000 per year. However, experienced professionals with several years of experience and advanced degrees can command much higher salaries, often exceeding AED 400,000 per year.

Location Matters

Salary levels can vary based on the emirate in which you work. Dubai and Abu Dhabi tend to offer higher salaries due to the cost of living in these cities. Northern Emirates may offer slightly lower salaries but often provide other benefits such as accommodation and transportation allowances.

Experience Counts

Like in many fields, experience plays a vital role in determining salary levels in healthcare management. As you gain more experience and prove your ability to manage healthcare facilities effectively, you can expect steady salary increments.

Additional Benefits

Many healthcare employers in the UAE offer attractive benefits packages to their employees, which can include health insurance, annual leave, and performance-based bonuses. These perks can significantly enhance the overall compensation package.

Networking and Certification

Building a strong professional network and obtaining relevant certifications can also impact your earning potential. Joining healthcare management associations and staying updated with industry trends can open doors to higher-paying positions.

Career Growth

Healthcare management is a dynamic field, and career growth opportunities are abundant in the UAE. With the right qualifications and experience, you can progress to roles like Director of Healthcare Operations, Hospital CEO, or even take on executive positions within healthcare conglomerates.
The Growing Demand for MBA Healthcare Management in the UAE
The United Arab Emirates (UAE) has seen remarkable growth and development in its healthcare sector over the past few decades. This growth has created a significant demand for skilled healthcare management professionals, driving the need for MBA Healthcare Management graduates.
Let's delve deeper into the factors contributing to this growing demand and the implications for individuals pursuing this specialization:
Healthcare Sector Expansion
The UAE has been investing heavily in the healthcare sector, with a particular focus on infrastructure and services. The construction of state-of-the-art hospitals, research centers, and medical facilities across the country has increased. This has created a need for professionals who can manage these complex institutions effectively.
Quality Healthcare Delivery
The UAE places a strong emphasis on delivering high-quality healthcare services to its residents and visitors. To maintain and improve the quality of care, healthcare organizations are seeking individuals with expertise in healthcare management to ensure that resources are used efficiently and effectively.
Strategic Planning and Optimization
As the healthcare sector expands, there's a growing need for strategic planning and resource optimization. Healthcare managers with an MBA in Healthcare Management possess the knowledge and skills required to develop and execute strategic plans, optimize operations, and address healthcare challenges efficiently.
Specialized MBA Programs
Recognizing the demand for healthcare management expertise, UAE universities and institutions have introduced specialized MBA programs in Healthcare Management. As a result, these programs offer a comprehensive curriculum that combines business acumen with healthcare-specific knowledge, producing graduates who are well-prepared to tackle the unique challenges of the industry.
Diverse Career Opportunities
MBA Healthcare Management graduates have a wide range of career opportunities in the UAE's healthcare sector. Moreover, they can work in various roles, including hospital administration, healthcare consulting, healthcare policy development, and healthcare project management.
Attractive Salary Packages
The demand for specialized skills in healthcare management often translates into competitive salary packages. While salaries can vary based on factors like experience and location, professionals in this field are generally well-compensated for their expertise.
Global Recognition
The healthcare system in the UAE adheres to international standards, making it an attractive destination for healthcare professionals from around the world. Furthermore, an MBA in Healthcare Management earned in the UAE is recognized globally, enhancing the career prospects of graduates.
Networking and Professional Growth
The UAE offers ample opportunities for networking and professional growth in the healthcare sector. Additionally, healthcare management associations and industry events provide platforms for professionals to connect, share insights, and explore career advancements.
Conclusion
Pursuing an MBA in Healthcare Management in the UAE can lead to a rewarding career with competitive salaries and ample opportunities for growth. As the healthcare sector continues to expand and evolve, professionals with the right skills and qualifications will play a pivotal role in shaping the future of healthcare in the UAE. If you're passionate about healthcare and management, this field offers not only financial rewards but also the satisfaction of contributing to the well-being of the community.