Choose the Better Option: Distance MBA or Online MBA in Dubai?
January 19, 2022
2023-10-04 6:25
Choose the Better Option: Distance MBA or Online MBA in Dubai?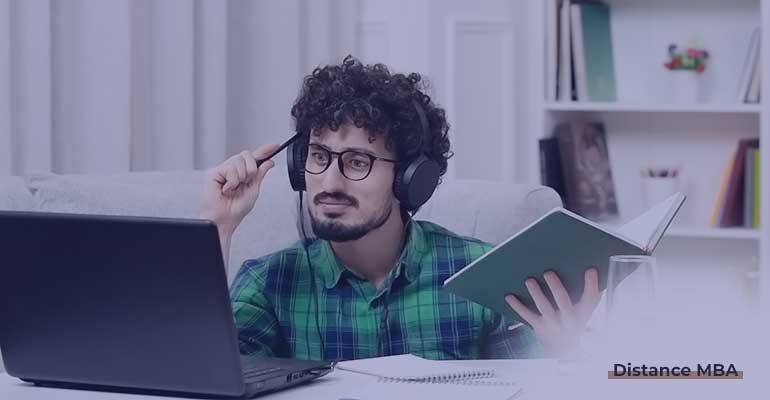 Choose the Better Option: Distance MBA or Online MBA in Dubai?
A "distance MBA", also known as an online MBA (Master of Business Administration), is a graduate-level business degree program that allows students to earn an MBA without being physically present on campus. This mode of education is designed to be flexible and accessible for individuals who may not have the time, ability, or desire to attend traditional on-campus MBA programs.
Are Distance MBA and Online MBA The Same?
In practice, people often use the terms "distance MBA" and "online MBA" interchangeably, and they refer to similar types of MBA programs that primarily use digital and remote learning methods. However, there can be subtle distinctions in how these terms are used depending on the institution and context:
Online MBA

An online MBA specifically emphasizes the use of the Internet and digital technologies for course delivery. It typically implies that the entire MBA program is accessible and completed online, with no requirement for physical attendance on campus. Online MBA programs often leverage various online tools and platforms for lectures, assignments, discussions, and exams.

Distance MBA

The term "distance MBA" is a broader category that encompasses various forms of remote learning. Distance MBA programs also deliver primarily through online methods, but they may include additional elements like correspondence courses, mailed course materials, or other non-digital resources. In some cases, "distance MBA" might be used to refer to any MBA program that allows students to study remotely, even if it includes a mix of online and offline components.
Which MBA should I choose?
The choice between a distance MBA and an online MBA depends on your individual circumstances, goals, and preferences. Both options have their advantages and disadvantages, and it's important to consider these factors when making your decision. Here are some key points to consider for each option:
Distance MBA
Flexibility: Distance MBA programs typically offer a high degree of flexibility. You can study from anywhere and at any time, which is convenient for individuals who have full-time jobs or other commitments.
Self-paced: These programs often allow you to set your own pace of study, which can be beneficial if you need more time to grasp certain concepts or have a busy schedule.
Cost-effective: Distance MBA programs can be more affordable than traditional on-campus programs, as you can avoid relocation and commuting costs.
Limited Networking: You may have limited opportunities for in-person networking and interaction with professors and fellow students, which can be a drawback in terms of building professional relationships.
Self-discipline: Distance learning requires a high level of self-discipline and motivation to stay on track with coursework and assignments.
Online MBA:
Similar to Distance MBA: Online MBA programs are similar to distance programs in terms of flexibility and convenience.
Interactive Learning: Many online MBA programs offer interactive elements such as live webinars, virtual group discussions, and video lectures, which can enhance the learning experience.
Networking Opportunities: Some online programs include virtual networking events, forums, and collaboration with classmates, which can help you build a professional network.
Varied Quality: The quality of online MBA programs can vary widely, so it's important to research and choose a reputable institution.
Technical Requirements: You'll need a reliable internet connection and the technical skills to navigate online learning platforms.
Ultimately, the choice between a distance MBA and an online MBA should align with your career goals, learning style, and personal circumstances. Before making a decision, consider factors such as program accreditation, faculty quality, cost, and the specific curriculum of the programs you're considering. It's also a good idea to reach out to current or former students to get their insights into the program's strengths and weaknesses.