Project vs. Operations Management: Key Differences and Best Practices
October 10, 2023
2023-10-10 7:07
Project vs. Operations Management: Key Differences and Best Practices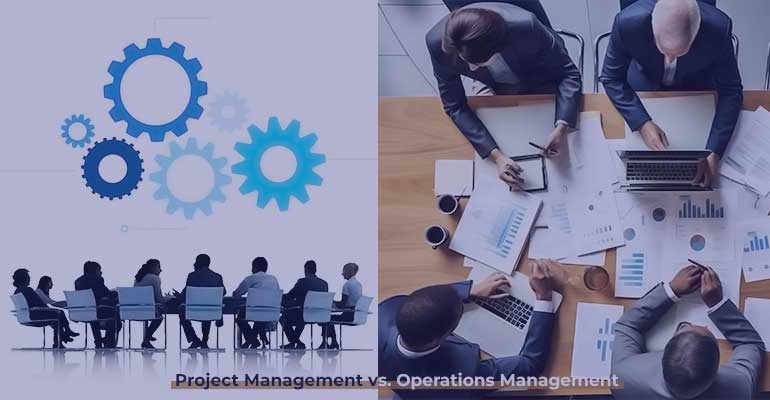 Project vs. Operations Management: Key Differences and Best Practices
Project vs. Operations Management: In the world of business and organizational management, two essential functions play a critical role in achieving success: project management and operations management. While both disciplines are integral to an organization's functioning, they serve distinct purposes and require different skill sets. In this article, we will delve into the differences between project management and operations management, comprehensively explore their respective goals, and discuss some best practices for optimizing each area to drive business success.
5 Key Differences  – Project vs Operations Management
Let's explore the five key differences: project vs operations management
Definition and Objectives – Project vs Operations Management

Project Management:

Project management is a temporary endeavor aimed at achieving a specific goal within a defined timeframe and budget. Additionally, projects are unique, have a clear start and end date, and often involve a cross-functional team. The primary objective of project management is to deliver a unique product, service, or result that meets or exceeds stakeholders' expectations.

Operations Management:

Operations management, on the other hand, focuses on the ongoing, day-to-day activities required to keep an organization running smoothly. It involves managing processes, resources, and systems to ensure efficient and effective production of goods or delivery of services. The primary goal of operations management is to maintain and improve the efficiency and quality of regular business operations.

Nature of Work

Project Management:

Projects are temporary and have a defined scope.
Project managers work on a variety of projects with different goals.
Project teams are often cross-functional and may disband after project completion.

Operations Management:

Operations are ongoing and repetitive.
As for operations management, operations managers are responsible for overseeing the routine processes within an organization.
The focus is on maintaining consistent quality and efficiency in daily operations.

Key Responsibilities

Project Management:

Defining project objectives, scope, and deliverables.
Creating project plans, schedules, and budgets.
Managing resources and teams.
Monitoring progress and addressing issues.
Ensuring the project is completed on time and within budget.

Operations Management:

Managing production processes or service delivery.
Optimizing resource allocation.
Quality control and process improvement.
Cost reduction and efficiency enhancement.
Ensuring compliance with regulations and standards.

Time Horizon

Project Management:

Short to medium-term focus.
Has a definite start and end date.
Temporary teams are formed.

Operational Management:

Long-term focus.
Ongoing and continuous.
Permanent or semi-permanent teams are involved.

Metrics and KPIs

Project Management:

Metrics include project completion time, budget adherence, and deliverable quality.
KPIs may include ROI, project success rate, and customer satisfaction.

Operations Management:

Metrics focus on operational efficiency, such as cycle time, productivity, and error rates.
Among the key performance indicators (KPIs) used in operations management, metrics such as cost per unit, customer retention, and inventory turnover are commonly tracked.
Best Practices – Project vs Operations Management
Collaboration

In the realm of project management, effective collaboration among team members is crucial. Therefore, it's important to encourage open communication and teamwork to ensure project success.

Continuous Improvement

In the domain of operations management, it's important to embrace lean principles; moreover, actively seeking continuous process improvement is crucial to enhance efficiency and reduce waste.

Clear Documentation

Maintain clear documentation in both project and operations management. Additionally, well-documented processes and procedures play a vital role in facilitating knowledge transfer and effective problem-solving.

Technology Utilization

Furthermore, leverage technology and project management software for tracking progress, managing resources, and streamlining operations.

Training and Skill Development

To foster ongoing improvement and efficiency, it's essential to invest in training for both project managers and operations staff, ensuring they stay up-to-date with industry best practices and emerging trends.
Conclusion:
Project management and operations management are two distinct but interrelated aspects of organizational success. Moreover, understanding the differences between them and implementing best practices in each area is essential for achieving efficiency, profitability, and long-term sustainability in today's competitive business landscape. By optimizing both project and operations management, organizations can effectively balance short-term project objectives with long-term operational excellence.