LUBM Smart Talks: Harnessing the Potential of Electromobility and Sustainability with Kivanc Karayol
September 20, 2023
2023-09-20 13:02
LUBM Smart Talks: Harnessing the Potential of Electromobility and Sustainability with Kivanc Karayol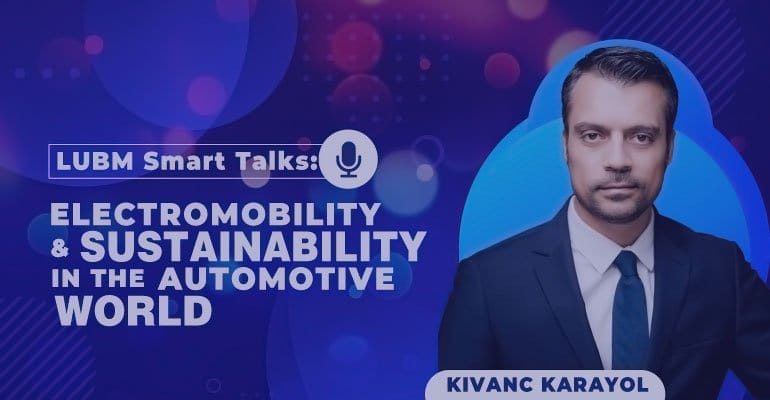 LUBM Smart Talks: Harnessing the Potential of Electromobility and Sustainability with Kivanc Karayol
LUBM Smart Talks was created with a foundational idea in mind. It aimed to provide students access not only to premium education but also to insights from industry experts. These insights revolve around issues that significantly influence the landscape of various industries as we know them. In the second episode of the podcast series, Dua Zafar, who exudes charm, engages with the man behind Volvo Group's dominance of electric vehicle growth in the Middle East: Mr. Kivanc Karayol. Dive deep into the world of electric mobility, where sustainability meets innovation.
In an enlightening exploration of a greener future, we'll unravel the mysteries of making impactful change without breaking the bank, leaving you with thought-provoking insights. This discourse transcends environmental benefits, profoundly influencing global markets, job creation, and reshaping our approach to transportation.
What is Electromobility, and How Does it Affect Us?
Electromobility is a topic that has been gaining traction on a personal and professional front for many. And no wonder, for it is not merely a technological leap. It's a lifeline for our planet and a game-changer for global markets. As the world grapples with environmental crises, the shift to electric vehicles represents a pivotal moment. It signifies a move toward a cleaner, sustainable future where carbon emissions decline. It also promises improvements in air quality and a concerted effort to combat the looming specter of climate change head-on.
Beyond its ecological significance, electromobility fuels economic dynamism. The conversation covers how the industry and its accompanying shift sparks innovation and propels job creation. It also reshapes entire industries, from automotive to energy.
His invaluable expertise as a game changer in the Middle East automobile industry sheds a tremendous amount of light on the rise of electric vehicles as a sustainable response to traditional pollution, and how factors like location and government support influence this booming industry.
While it can now be said with certainty that Electric Vehicles (EVs) aren't just a trend, he is honest about the roadblocks he has experienced in these nascent stages and the ones he can foresee, from the widespread implementation of charging infrastructure to persuading companies of the profitability of switching to the green vehicles.
Exploring Electromobility's Role in Sustainable Transportation: Insights from Kivanc Karayol
Kivanc Karayol passionately delves into the realm of electromobility on the podcast. He acknowledges that while it's a powerful solution, it's not the sole remedy. The conversation spans the spectrum of sustainable mobility options, including the emergence of hydrogen vehicles. From battery-driven EVs to hybrid technologies and cutting-edge hydrogen fuel cells, each possesses its unique strengths and confronts specific challenges.
As the Head of Electromobility and Sustainable Growth across 10 nations in Volvo Group, he emphasizes the ongoing efforts within the industry. Volvo Group is focusing these efforts on overcoming issues such as range limitations and charging infrastructure.
Discover how major EV corporations are addressing challenges and what that means for future job opportunities in this dynamic and crucial field. Get ready for a high-voltage journey of ideas and possibilities!