Best Business Schools Rankings in 2023-2024
September 7, 2023
2023-09-07 12:47
Best Business Schools Rankings in 2023-2024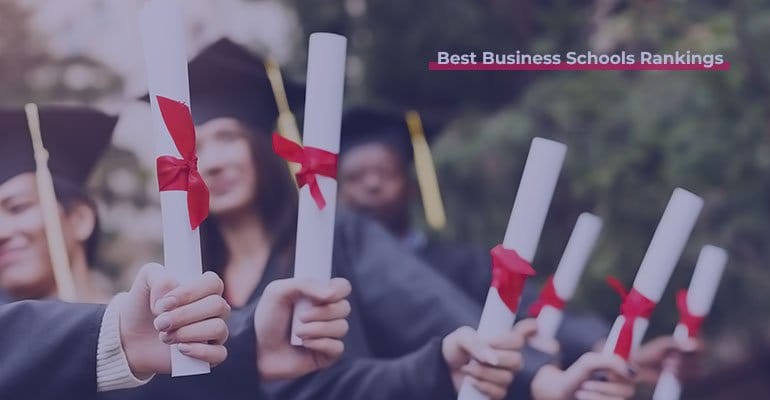 Best Business Schools Rankings in 2023-2024
Selecting the right business school is a crucial decision that can significantly impact your career trajectory. In an era marked by rapid changes in technology and market dynamics, you need an institution. It can equip you with the skills and knowledge to face an ever-evolving business landscape. This is why "business schools rankings" are so essential for aspiring business leaders. The purpose of this blog is to provide you with the latest business schools rankings for the academic year 2023-2024.
The Importance of Business Schools Rankings
The first thing to understand is why business schools rankings are so important. These rankings serve as a reliable guide for students, professionals, and academicians in identifying the institutions that offer not just quality education but also excellent career opportunities. They take into account various factors, such as faculty expertise, alumni network strength, employability, and more. Hence, by referring to "business schools rankings", you can align your career goals with the schools that can help you achieve them.
The Methodology
It's crucial to understand the methodology used in compiling business schools rankings. Several entities, like the Financial Times, Bloomberg Businessweek, and the U.S. News & World Report, conduct these rankings based on multiple parameters. Factors like academic reputation, student-to-faculty ratio, placement statistics, and student satisfaction are often considered. Some rankings even delve into the nitty-gritty, like the average salary hike post-MBA. Therefore, depending on what factors matter the most to you, certain Business School Assessments may be more relevant than others.
The Top Contenders in Business Schools Rankings
Now, let's discuss the top contenders according to the most recent business schools rankings. Harvard Business School, Stanford Graduate School of Business, and The Wharton School continue to top the charts, with INSEAD and London Business School not far behind. These schools have consistently appeared in Management School Rankings due to their rigorous academic programs, state-of-the-art facilities, and illustrious alumni networks. These institutions also offer a rich array of specializations, from traditional fields like Marketing and Finance to emerging areas such as Business Analytics and Sustainable Business.
Top 4 Business Schools Rankings for 2023-2024
Harvard Business School (HBS)Description: Harvard Business School, part of the prestigious Harvard University, continues its reign as the number one institution in the business schools rankings. Located in Boston, Massachusetts, HBS is renowned for its case-study methodology that offers real-world business scenarios for students to dissect and analyze. With a diverse student body, iconic alumni, and faculty that includes some of the world's leading business thinkers, HBS remains a prime destination for MBA aspirants. Its extensive alumni network ensures that students are never far from opportunities, regardless of where they seek to establish their careers.
Stanford Graduate School of Business
Nestled in the heart of Silicon Valley, Stanford Graduate School of Business has a distinct advantage when it comes to tech entrepreneurship and innovation. These connections are reflected in their curriculum, which encourages a deep entrepreneurial mindset. Stanford Graduate School of Business prides itself on its small class sizes, ensuring personalized attention and fostering a close-knit community. The blend of rigorous academic training with real-world exposure, thanks to its proximity to tech giants, places Stanford Graduate School of Business high in the business schools rankings year after year.
The Wharton School, University of Pennsylvania
One of the oldest business schools in the USA, The Wharton School has long been a stalwart in business schools rankings. Located in Philadelphia, Wharton is known for its extensive research contributions and a vast range of electives. With a strong focus on analytics and data-driven decision making, Wharton produces graduates who are ready to face challenges in various industries, be it finance, healthcare, or technology.
INSEAD
With campuses in France, Singapore, and Abu Dhabi, INSEAD truly offers a global MBA experience, making it a regular in the top segment of business schools rankings. Known as "The Business School for the World," INSEAD's one-year MBA program is intense, diverse, and designed for those looking to gain a global business perspective. The school's curriculum emphasizes leadership and cultural understanding, crucial for navigating the intricacies of international business.
London Business School (LBS)
Situated in one of the world's leading financial hubs, London Business School offers unparalleled access to the global business community. The MBA program at LUBM is renowned for its flexibility. Students have the freedom to customize their studies to align with their career goals. LBS maintains strong ties with industries across Europe and beyond, providing students with a vast array of internship and job opportunities. Their emphasis on internationalism and a diverse cohort ensures that students leave with a truly global mindset.
Business Schools Rankings for Specializations
In addition to overall rankings, it's useful to consider business schools rankings for specific specializations. For instance, people highly regard the Kellogg School of Management for its Marketing program, while they often cite MIT Sloan for its strength in Information Systems and Business Analytics. These specialized "business schools rankings" can provide valuable insights for students who have a clear idea of the field they wish to excel in. Therefore, if you have a specific focus, these rankings can be a great resource.
International Business Schools Rankings
With businesses becoming increasingly global, international business schools rankings are becoming more pertinent. Schools like INSEAD, London Business School, and IESE Business School regularly feature in these rankings. They offer diverse cultural environments and global perspectives, which are increasingly important in today's interconnected business world. Examining international Management School Rankings can also offer you options beyond the usual suspects in the United States, widening the scope of your educational experience.
Online MBA Programs in Business Schools Ratings and Rankings
Online education has gained significant traction, and it reflects in business schools ratings focused on online MBA programs. Schools like the University of North Carolina's Kenan-Flagler Business School and Indiana University's Kelley School of Business often rank high for their online MBA programs. If you're a working professional who wants to upgrade your skills without leaving your job, these business schools rating & rankings can be especially useful.
Adding to this, we have rising universities such as the Lincoln University of Business & Management, which has completely online courses. Lincoln University of Business & Management (LUBM) serves the educational and professional growth requirements of students and professionals. Its primary focus is on the Middle East and Africa. LUBM is situated in the United Arab Emirates. It has become a center for business and management studies. The university places a strong emphasis on modern teaching methods, industry-focused curricula, and a student body representing diversity. The university ensures its programs align with global standards by collaborating with various international universities. LUBM offers a range of undergraduate, postgraduate, and doctoral programs. It dedicates itself to fostering a culture of continuous learning, innovation, and excellence in the realms of business and management.
Will an Online MBA Program This Year Stimulate Your Career Growth?
Diversity and Inclusion
Another aspect that has begun to feature prominently in business schools rankings is the focus on diversity and inclusion. Schools like Stanford and Northwestern University are becoming increasingly popular for their commitment to creating a diverse learning environment. These factors not only represent moral imperatives but also influence how well students are prepared for a diverse workplace.
How to Use Business Schools Rankings to Your Advantage
So, how can you make the most of these business schools rankings? Start by identifying your career goals and the specializations that interest you. Use the rankings as a preliminary guide to shortlist schools that align with your objectives. From there, delve into other qualitative factors like campus culture, alumni testimonials, and facilities. Remember, while business schools rankings are essential, they are just one piece of the puzzle.
Final Thoughts
Navigating the sea of options for your business education is no small feat. Business schools rankings can provide a valuable compass. By taking the time to understand and utilize the various Business Education Rankings available, you can make an informed decision. This decision will serve you well in your future endeavors in the business world.. Keep an eye out for the latest business schools rankings. They can change from year to year, affecting your decision-making process. Happy school hunting!
By taking the time to understand and utilize the various Management Education Rankings available, you can make an informed decision. This decision will serve you well in your future endeavors in the business world.