T.H.E World University Rankings 2023
August 14, 2023
2023-09-04 14:23
T.H.E World University Rankings 2023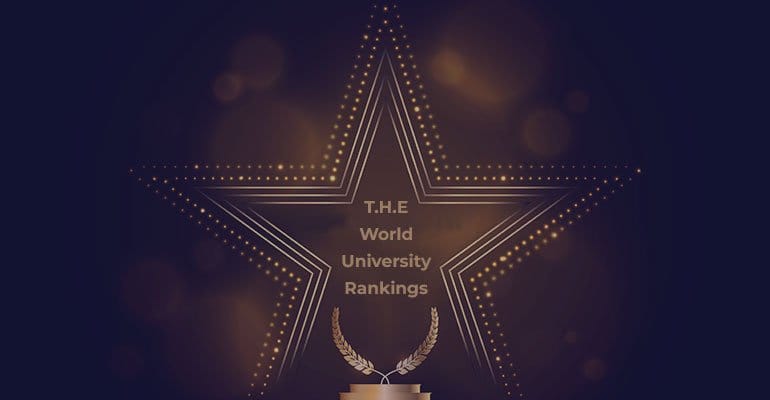 T.H.E World University Rankings 2023
University rankings are lists or rankings of higher education institutions, typically compiled and published by various organizations, to provide a comparative assessment of universities based on various criteria. Students, parents, academics, and policymakers use these rankings to make informed decisions about where to study, where to work, and where to allocate resources for research and education.
University Rankings best keys
Methodology

Each ranking organization uses a specific methodology to evaluate and rank universities. Common criteria include academic reputation, research output, faculty qualifications, student-to-faculty ratio, international diversity, and more. The weight given to each criterion can vary between rankings, leading to differences in rankings for the same institutions.

Academic Reputation

This is often a significant factor in rankings. Academics and researchers determine it through surveys, rating universities based on their perception of academic excellence, teaching quality, and research contributions.

Research Output

Evaluators assess universities based on their research productivity, which involves metrics such as the number of research publications, citation counts, and research funding.

Student Metrics

These can include student-to-faculty ratios, graduation rates, and student satisfaction surveys.

Internationalization

Universities that have a strong international presence, attract international students and faculty, and engage in global collaborations may receive higher rankings.
Facilities and Resources

Sometimes people consider the quality and quantity of a university's facilities, such as libraries, laboratories, and technology infrastructure.

Employability

Rankings may also consider the employability of a university's graduates, often by surveying employers about the skills and qualifications of recent hires.

Alumni Success

The success of a university's alumni, including their impact on society and business, can influence rankings.

Regional and Subject Rankings

Some ranking organizations provide specialized lists for universities within specific regions or for particular academic disciplines.

Transparency

Reputable ranking organizations are transparent about their methodology and data sources. This transparency helps users understand how rankings are determined and the potential limitations.

Limitations

University rankings have limitations. They may not account for cultural or regional differences, and their criteria may not align with the priorities of individual students or institutions. Some critics argue that rankings can encourage universities to focus on factors that boost their rankings at the expense of other important aspects of education.

Subjectivity

Some elements in rankings, like academic reputation, rely on subjective opinions and surveys, which can introduce bias.

Yearly Updates

University rankings are typically updated annually or semi-annually, so the positions of universities can change from year to year.

Multiple Rankings

To get a more comprehensive view, it's often recommended to consult multiple ranking lists and consider their collective results rather than relying solely on one.
What is THE (Times Higher Education)?
Times Higher Education (THE) is a prominent and respected global organization that specializes in providing information, analysis, and rankings related to higher education institutions and the broader field of academia. Founded in the United Kingdom, THE offers a wide range of services and resources to support students, academics, universities, and policymakers in making informed decisions and advancing the quality and impact of higher education.
Here is an explanation of THE:
University Rankings
One of the most well-known aspects of THE is its World University Rankings. These rankings assess and rank universities from around the world based on a set of comprehensive criteria. The rankings provide an annual snapshot of the relative performance and reputation of universities globally. They are widely used by prospective students, academics, and institutions to gauge the quality and standing of universities.
News and Analysis
THE publishes news articles, features, and analysis on a wide range of topics related to higher education. Their reporting covers issues such as education policies, research breakthroughs, campus developments, and global trends in academia. THE's news and analysis serve as a valuable source of information for those interested in the latest developments in higher education.
Data and Research
THE collects and analyzes extensive data related to universities, faculty, students, research output, and more. This data is used not only for ranking universities but also for conducting research and producing reports that provide insights into various aspects of higher education.
Impact Rankings
In addition to traditional university rankings, THE has introduced the Impact Rankings, which assess universities based on their contributions to addressing global challenges and promoting social and environmental sustainability. These rankings highlight universities that are making a positive impact on society.
Events and Summits
THE organizes events, conferences, and summits that bring together leaders, academics, policymakers, and experts from the higher education community. These events provide opportunities for networking, knowledge sharing, and discussions on important topics in academia.
Consultancy Services
THE offers consultancy services to universities and educational institutions seeking guidance on various aspects of institutional development and strategy. This includes services related to reputation management, performance improvement, and strategic planning.
Reports and Publications
THE produces reports, publications, and studies on a wide range of higher education topics. These publications often provide in-depth analysis and research findings that contribute to a better understanding of the challenges and opportunities in the higher education sector.
THE World Summit Series
This series of events brings together leaders from universities, governments, industry, and academia to engage in discussions and shape the future of higher education on a global scale. It serves as a platform for addressing critical issues and advancing collaboration in higher education.
How does Times Higher Education (THE) consider universities for ranking?
Times Higher Education (THE) World University Rankings use a comprehensive methodology to determine the ranking positions of universities worldwide. While the specific details of THE's methodology may evolve over time, as of my last knowledge update in September 2021, here are the key factors and processes that THE considers when ranking universities:
Teaching (the learning environment):
Teaching Reputation Survey: THE conducts a global academic reputation survey, where scholars and academics are asked to rate the teaching quality and reputation of universities.
Research (volume, income, and reputation):
Research Output: THE evaluates the number of scholarly publications produced by a university. It considers both the quantity and quality of research publications.
Research Income: The amount of research funding a university receives is considered as an indicator of its research strength.
Research Reputation Survey: Similar to the teaching reputation survey, THE conducts a research reputation survey where academics rate universities based on their research excellence and reputation.
Citations (research influence):
Citation Analysis: THE examines the impact and influence of a university's research by analyzing the number of citations its scholarly articles receive in reputable academic journals. This assesses the reach and significance of the university's research in the global academic community.
International Diversity:
International Students: THE assesses the percentage of international students studying at the university.
International Faculty: The proportion of international faculty members is also taken into account.
International Research Collaborations: Universities that engage in international research collaborations are given recognition.
Industry Income (knowledge transfer):
Industry Engagement: THE considers how universities engage with industry partners and the extent to which they transfer knowledge and technology to society and industry.
Income from Industry: The income generated from industry collaborations and knowledge transfer activities is considered.
Overall Institutional Reputation:
Reputation Surveys: Reputation surveys play a significant role in THE rankings. Academics, including faculty and researchers, are surveyed to gather their opinions and assessments of university reputations.
Subject-Specific Rankings:
In addition to the overall World University Rankings, THE provides rankings for specific academic disciplines or subjects. These rankings use criteria tailored to the particular field of study.
University of the West of Scotland
The University of the West of Scotland (UWS) traces its roots back to 1897 when they established the Paisley College of Technology. In 1992, the college achieved university status, and in 2007, it adopted the name University of the West of Scotland.
UWS actively situates itself across four campuses, strategically positioning them in the western and southwestern regions of Scotland, United Kingdom: Paisley, Lanarkshire, Dumfries, and Ayr. Additionally, the university has recently expanded to include a London campus, which you can find in the London Docklands area.
Academically, UWS organizes itself into four schools: Business and Creative Industries, Computing, Engineering and Physical Sciences, Education and Social Sciences, and Health and Life Sciences. Furthermore, each school actively offers a diverse range of undergraduate, postgraduate, and doctoral programs.
Beyond the classroom, the Students' Association curates an engaging calendar of social events throughout the academic year, thereby fostering a vibrant campus community.
UWS classifies its research efforts into three primary themes: health, society, and sustainability. Within these themes, research activities span across areas such as business and enterprise, computing, education, engineering, health, media and culture, science, social sciences, and sport and exercise. Collaboration is a cornerstone of the university's research initiatives.
Overseeing the university's global endeavors, the International Centre plays a pivotal role, particularly in coordinating academic exchange programs. UWS warmly welcomes a diverse international student body each year, with students arriving from various corners of the world. The university has established partnerships with educational institutions worldwide, spanning countries including China, India, Canada, Kenya, and Vietnam.
UWS is ranked 601–800 in the THE World University Rankings
As of the latest available data, UWS is ranked in the range of 601–800 in the THE World University Rankings. Please note that university rankings can vary from year to year and may change due to various factors. It's always a good practice to consult the official THE website or the most recent rankings publication for the most up-to-date and detailed information about university rankings. Rankings can serve as a reference, but individuals should consider them alongside other factors when making decisions about higher education.
Why should you choose top-ranked university?
University rankings play a crucial role in shaping the educational and career paths of students worldwide. Selecting the right institution can be a daunting task, as the quality of education and opportunities can vary significantly. To navigate this decision successfully, one valuable resource to consider is the world university rankings.
These rankings provide a comprehensive assessment of universities across the globe, making it easier for students to identify reputable institutions. Investing in education is a significant commitment, and earning a degree from a well-regarded university can significantly impact your future prospects.
When exploring university rankings, it's important to consider various factors such as academic reputation, research output, faculty qualifications, and international diversity. These elements collectively contribute to an institution's standing in the rankings.
At LUBM, we commit to providing guidance on effectively deciphering and utilizing university rankings. Moreover, we believe in empowering students to make informed decisions that align with their educational and career goals.
One university that consistently garners recognition in these rankings is the University of the West of Scotland (UWS). Notably, UWS has consistently demonstrated excellence in various academic fields, earning its place among the top-ranked universities in the world. Aspiring students looking for quality education and a platform for success should undoubtedly explore what UWS has to offer.
Conclusion
In conclusion, the world university rankings offer a valuable resource for prospective students, helping them identify prestigious institutions and make informed choices about their academic journeys. We encourage you to explore these rankings thoroughly. Additionally, consider institutions like UWS that have established themselves as leaders in education and research. Furthermore, your educational choices today can shape your future, and we are here to assist you on this rewarding journey.