Logistics Manager Salaries for MBA Holders in UAE
June 7, 2023
2023-10-14 11:39
Logistics Manager Salaries for MBA Holders in UAE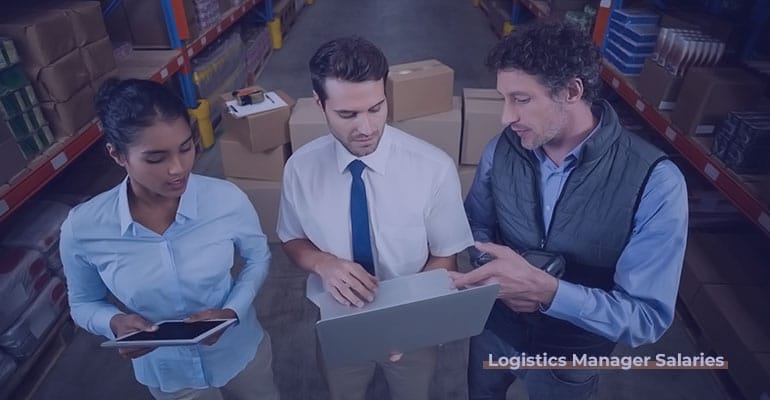 Logistics Manager Salaries for MBA Holders in UAE
Logistics Manager Salaries for MBA Holders in UAE: A Comprehensive Analysis
Logistics Manager Salaries: The United Arab Emirates (UAE) has emerged as a global logistics hub in recent years, driven by its strategic location and world-class infrastructure. As the logistics industry continues to grow, the demand for skilled professionals, especially those with advanced degrees like an MBA, has increased significantly. In this article, we will explore the salaries of logistics managers who hold an MBA degree in the UAE, providing insights into the factors that influence their earnings and the trends in the industry.
The Logistics Industry in the UAE
The logistics industry in the UAE plays a pivotal role in facilitating trade and commerce, not only within the region but also on a global scale. Its strategic location at the crossroads of Europe, Asia, and Africa makes it an ideal hub for supply chain operations, leading to a thriving logistics sector. The presence of world-class ports, airports, and free zones further strengthens its position as a logistics powerhouse.
MBA Qualification: A Gateway to Career Advancement
An MBA degree has long been considered a passport to career advancement in various fields, including logistics. In the UAE, logistics managers with an MBA are in high demand because of their ability to bring strategic thinking, leadership skills, and innovative solutions to the table. Many multinational companies operating in the UAE prefer candidates with advanced degrees for managerial positions, as it enhances their ability to navigate the complex logistics landscape efficiently.
Comprehensive Guide: MBA Courses List and Details
Factors Influencing Logistics Manager Salaries
Explore the competitive Logistics Manager salaries for MBA holders in the UAE. Discover the earning potential in the dynamic field of logistics management.
Experience:

Experience is a key determinant of salary. Consequently, those with several years of experience in the logistics industry often command higher salaries.

Industry:

The specific industry within logistics can impact salaries. For example, those working in the oil and gas sector may earn more than those in retail logistics.

Company Size:

The size and reputation of the employer also play a significant role. Multinational corporations and large logistics companies tend to offer higher salaries and better benefits packages.

Location:

The emirate in which one works can influence salary levels. Dubai and Abu Dhabi typically offer higher salaries due to the higher cost of living.

Skills and Expertise:

Specialized skills and expertise, such as knowledge of customs regulations or supply chain optimization, can lead to higher salaries.

Market Conditions:

Economic conditions and market trends can affect salaries. For instance, a booming logistics market may result in higher wages for professionals.

Education:

Having an MBA can open doors to higher-paying roles, as it demonstrates advanced knowledge and commitment to professional development.
Logistics Manager Salaries with an MBA
While Logistics Manager Salaries with an MBA in the UAE can vary significantly based on the factors mentioned above, here's a general range to provide an overview:
Entry-Level:

Logistics managers with less than 2 years of experience can expect a salary between AED 15,000 to AED 25,000 per month.

Mid-Career:

Those with 3 to 5 years of experience can earn between AED 25,000 to AED 40,000 per month.

Experienced:

Professionals with 6 or more years of experience can command salaries ranging from AED 40,000 to AED 80,000 per month or higher, especially in top-tier companies.
The Role of an MBA in Logistics Management in Advancing Your Managerial Career
This article explores the importance of an MBA in Logistics Management for career advancement in the competitive business world. Logistics management is crucial for the efficient movement of goods and services. We examine how an MBA equips professionals with the skills to excel in logistics and supply chain management.
Discover why an MBA in Logistics Management is valuable for both aspiring and experienced managers. It deepens your understanding of logistics, transportation, and supply chain operations, enhancing leadership and decision-making skills. Additionally, it opens doors to job opportunities, higher earnings, and greater influence in shaping logistics strategies within organizations.
The article provides real-world examples of professionals who used their MBA in Logistics Management to reach higher managerial positions. Whether you're a logistics professional aiming for career growth or an individual seeking an impactful managerial career, this article sheds light on the transformative role of an MBA in achieving your professional goals.
Conclusion
Logistics managers with an MBA degree in the UAE are well-positioned to excel in a thriving industry. Consequently, their salaries are influenced by a range of factors, including experience, industry, company size, location, skills, and education. As the logistics sector continues to grow and evolve, professionals with advanced degrees and the ability to adapt to changing market conditions will remain highly sought after. This makes a career in logistics management an attractive option for MBA holders in the UAE.