Accelerate Your Career with Fast-Track MBA Programs in Dubai
September 30, 2021
2023-09-18 13:57
Accelerate Your Career with Fast-Track MBA Programs in Dubai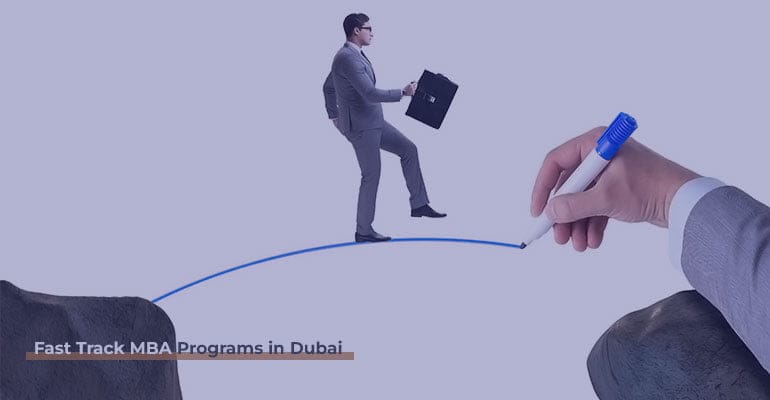 Accelerate Your Career with Fast-Track MBA Programs in Dubai
In the bustling heart of the United Arab Emirates, Dubai stands as a global hub of innovation, business, and opportunity. With its towering skyscrapers, diverse culture, and thriving economy, Dubai has become a magnet for professionals seeking to elevate their careers to new heights. As the demand for advanced business education grows, fast-track MBA programs in Dubai have emerged as a popular choice. These programs attract ambitious individuals aiming to achieve rapid career progression. In this blog, we delve into the dynamic world of Fast Track MBA programs in Dubai. Discover how they can fast-forward your journey to success.
The Explanation of the Fast-Track MBA Programs
Fast Track MBA programs are designed for those who want to expedite their education without compromising on quality. These programs compress the traditional MBA curriculum into a shorter timeframe, allowing students to complete their studies in as little as 12 to 18 months. This accelerated approach offers several benefits:
Time Efficiency:

In the fast-paced business landscape of Dubai, time is of the essence. Fast-Track MBA programs enable you to earn a prestigious MBA degree in less time, allowing you to return to the workforce swiftly armed with advanced skills and knowledge.

Intensive Learning:

Fast-Track MBA programs are immersive and intensive. They deliver the same comprehensive curriculum as traditional programs but in a condensed format. This focused approach ensures you gain a deep understanding of business concepts and their real-world applications.

Career Advancement:

Dubai's competitive job market rewards those with specialized skills and qualifications. A Fast-Track MBA can give you a competitive edge, opening doors to leadership roles and greater earning potential.

Flexibility:

Many Fast-Track MBA programs offer flexible scheduling options, including evening classes and online learning. This accommodates the needs of working professionals who wish to balance their studies with their careers.
Dubai: A Hotspot for Fast-Track MBA Programs
Dubai's international reputation as a business hub attracts top universities and institutions to establish campuses and offer Fast-Track MBA programs. Here are a few reasons why Dubai is an ideal location for pursuing an accelerated MBA:
Networking Opportunities:

Dubai's diverse community is a melting pot of cultures and industries. Fast-Track MBA programs provide a platform to build a global network, connecting with peers and professionals from around the world.

Industry Exposure:

Dubai's economy spans finance, technology, hospitality, and more. A Fast Track MBA program in Dubai provides firsthand exposure to these industries, enhancing your understanding of global business dynamics.

Expert Faculty:

Many Fast-Track MBA programs in Dubai boast experienced faculty members who are well-versed in the regional and international business landscape, offering insights and knowledge that are directly applicable to your career.

Multicultural Experience:

Studying in Dubai offers a unique opportunity to immerse yourself in a multicultural environment, preparing you to collaborate with colleagues and clients from various backgrounds—a skill highly valued in today's globalized business world.
Embark on Your Fast Track Journey
Fast-Track MBA programs in Dubai offer a fast-paced journey to personal and professional growth. As you consider your options, assess your career goals, the curriculum offered, faculty expertise, and the opportunities for networking and industry exposure. With Dubai's vibrant economy as your backdrop, a Fast-Track MBA program could be the catalyst you need to accelerate your career and achieve unprecedented success on the global stage.
Fast Track MBA Programs Online or Part-Time in Dubai
Through a strategic partnership with Lincoln University of Business and Management, York St John University presents an exceptional fast-track MBA program within the UAE. This program embraces an internationally acclaimed curriculum, accessible to students worldwide. The unique advantage lies in the flexibility of completing the one-year program from the comfort and grandeur of your own home, essentially granting you the opportunity to experience education from a prestigious institution without geographical limitations.
The Executive or Fast-Track MBA degree holds unparalleled recognition on a global scale. Renowned for its excellence, it provides a conduit to immerse oneself in a top-tier, globally acknowledged curriculum. Esteemed experts endorse this program as a viable gateway to achieving higher education rapidly and efficiently. Notably, the Online MBA in Dubai is tailored to be affordable, with classes designed to accommodate the schedules of applicants. This convenient arrangement not only offers cost-effective education but also affords the freedom to study from any corner of the UAE.
Why Should You Choose Lincoln University of Business and Management (LUBM)?
Established in 2014, the educational institution of LUBM stands as a flourishing empire meticulously crafted by a cadre of professionals representing diverse backgrounds. This institution remains dedicated to the ongoing enhancement of its offerings, steadfastly committed to furnishing students with education of both quality and contemporaneity.
Lincoln University of Business and Management (LUBM) is resolutely driven to inspire and embolden professionals, urging them to pursue continuous education and seamlessly integrate it into their present and future work environments. Among the various education programs offered, the Online MBA stands out as a prime example of flexibility without any compromise on the core tenets of superior education. The institution's world-class amenities, accessible study pathways, and inventive pedagogical approaches amalgamate to prepare you for leadership roles. For those enrolled in the Fast-Track MBA program, an array of resources awaits, including video libraries, archived sessions, and esteemed international journals. Our aim at LUBM is to furnish students not only with superlative education but also with pragmatic learning methodologies, workshops, and comprehensive placement guidance programs.
The faculty entrusted with nurturing the participants of our Online MBA in Dubai is truly exceptional. Furthermore, these educators bring a wealth of experience across diverse management domains, having served in prominent corporate enterprises. As a result, their inclusion is a testament to our commitment to providing world-class education. As a result, they impart knowledge and share invaluable experiences with the aspirational professionals under their tutelage.
Advantages of Pursuing a Fast-Track MBA in Dubai
In the dynamic and competitive business landscape of Dubai, professionals are constantly seeking ways to propel their careers forward while balancing their time commitments. This is where the Fast-Track MBA program emerges as a game-changer. Specifically, designed to offer a swift yet comprehensive educational journey, the Fast-Track MBA in Dubai comes with an array of benefits that can reshape your professional trajectory. Now, let's delve into the advantages of opting for this accelerated MBA program:
Rapid Career Progression:

Time is of the essence in Dubai's bustling job market. Furthermore, a Fast-Track MBA allows you to earn a prestigious degree in a fraction of the time, positioning you for quicker career advancement.

Intensive Learning Experience:

The condensed nature of the program doesn't compromise the depth of learning. Instead, the Fast-Track MBA curriculum is designed to deliver a comprehensive education, equipping you with essential skills and knowledge in a focused manner.

Flexibility for Working Professionals:

For those already in the workforce, the Fast-Track MBA's flexibility is a major advantage. Furthermore, evening classes, online learning options, and convenient schedules cater to professionals aiming to balance their careers with education.

Globally Recognized Education:

Dubai's international business community demands qualifications that are globally recognized. A Fast-Track MBA from a reputable institution ensures that your credentials hold weight both locally and on the international stage.

Networking Opportunities:

Dubai is a melting pot of cultures and industries, creating a unique environment for networking. Moreover, the Fast-Track MBA brings together ambitious individuals from diverse backgrounds, fostering connections that can lead to future collaborations and partnerships.

Industry Relevance:

The Fast-Track MBA curriculum is tailored to match the demands of Dubai's rapidly evolving industries. Moreover, you'll gain insights into local market trends and global business dynamics, preparing you to excel in any professional setting.

Faculty Expertise:

The Fast-Track MBA faculty typically comprises seasoned professionals and academics who possess a wealth of industry experience. Additionally, their insights and practical knowledge enhance the learning experience and provide real-world context.

High-Quality Curriculum:

Despite the accelerated pace, the Fast-Track MBA curriculum maintains high standards of excellence. You'll receive a well-rounded education encompassing core business concepts, strategic thinking, and leadership skills.

Skill Enhancement:

The program focuses on honing essential skills such as critical thinking, problem-solving, communication, and decision-making. These skills are directly applicable to your career advancement.

Access to Resources:

Fast-Track MBA students often have access to a range of resources, including digital libraries, online platforms, and international journals. Moreover, these resources enrich your learning journey and aid in your research endeavors.

Leadership Opportunities:

The intensive nature of the program can fast-track your transition into leadership roles. Consequently, you'll acquire the necessary skills to take on managerial responsibilities with confidence.

Global Perspective:

Dubai's cosmopolitan environment offers exposure to a wide range of perspectives. As a result, this exposure enhances your ability to work in diverse teams and navigate global business scenarios.