What is International Management Degree?
September 9, 2023
2023-09-11 17:12
What is International Management Degree?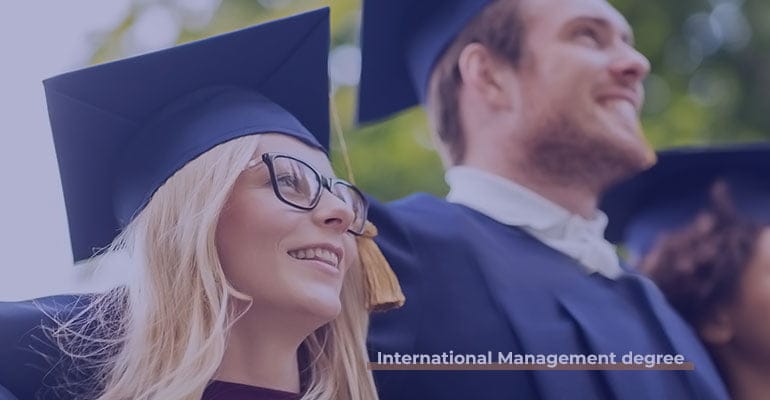 What is International Management Degree?
An "International Management degree" is an academic program that focuses on preparing students for careers in managing and leading businesses and organizations with a global or international scope. This degree program typically covers a wide range of subjects related to management, business, and international affairs. Students who pursue this degree gain knowledge and skills in areas such as cross-cultural communication, international marketing, global finance, international trade, and strategic management.
An "International Management degree" often includes coursework on topics like international business strategy, global supply chain management, multinational corporate finance, and global business ethics. It equips graduates with the expertise needed to navigate the challenges and opportunities of operating in a globalized world.
Career Opportunity
Career opportunities for individuals with an International Management degree are diverse and can include roles in multinational corporations, international organizations, government agencies, non-profit organizations, and more. Graduates may work as international business managers, global marketing analysts, international project managers, or in various other positions that require a deep understanding of global business operations and international relations.
Overall, an International Management degree provides students with the knowledge and skills necessary to excel in the dynamic and interconnected world of international business and management.
Why should you pursue an International Management Degree?
Pursuing an International Management degree can offer numerous benefits, both personally and professionally. Here are some compelling reasons why someone might choose to pursue such a degree:
Global Perspective:
An "International Management degree" provides a deep understanding of global business environments, cultures, and markets. This global perspective is invaluable in today's interconnected world, where businesses often operate across borders.
Career Opportunities:
International Management graduates are in demand in various industries, including multinational corporations, international organizations, and global consulting firms. This degree can open up a wide range of career opportunities and increase your employability.
Cross-Cultural Competence:
Managing teams and projects across different cultures and countries requires cross-cultural competence. An International Management degree equips you with the skills and knowledge needed to navigate cultural differences effectively.
Language Skills:
Many International Management programs emphasize language acquisition, which can be a valuable asset when working internationally. Being able to communicate in multiple languages can give you a competitive edge in the global job market.
Networking Opportunities:
Studying International Management often means interacting with a diverse group of students and professors from around the world. This provides excellent networking opportunities, which can be instrumental in building a global professional network.
Adaptability:
International business environments are dynamic and constantly changing. A degree in International Management teaches adaptability and problem-solving skills, which are crucial in managing complex global challenges.
Exposure to Different Business Models:
Studying international business exposes you to various business models, strategies, and best practices from different countries. This knowledge can be applied to make businesses more competitive and innovative.
Personal Growth:
Living and studying in a foreign country can be a transformative experience. Firstly, it challenges you to step out of your comfort zone, pushing you to adapt to new surroundings and cultures. Additionally, it encourages you to become more independent, as you navigate daily life without the familiar support systems. Moreover, this experience helps you develop a broader worldview, as you gain insights into different perspectives and ways of life.
Global Citizenship:
An International Management degree can instill a sense of global citizenship and social responsibility. It can motivate you to address global issues, such as sustainability, ethics, and social justice, in your future career.
Competitive Advantage:
As the business world increasingly globalizes, companies actively seek individuals with expertise in international management. Having this degree can give you a competitive advantage when applying for jobs or pursuing career advancement.
Eligibility of International Management Degree
Eligibility requirements for an International Management degree can vary depending on the specific program and university you are interested in. However, here are some common eligibility criteria you may encounter when applying for a bachelor's or master's degree in International Management:
Educational Background

Bachelor's Degree:

To pursue a master's degree in International Management, you typically need to have a bachelor's degree in a related field. While some programs may accept students from various academic backgrounds, many prefer candidates with degrees in business, management, economics, or a related discipline.
Master Of Business Administration (MBA)

High School Diploma:

For a bachelor's degree in International Management, you usually need a high school diploma or its equivalent. Specific requirements may vary by country and institution.

Language Proficiency

English Language Proficiency:

Many International Management programs are taught in English. If English is not your native language, you may need to provide proof of English language proficiency through standardized tests like the TOEFL or IELTS. Minimum score requirements vary by institution but are typically specified in the program's admission criteria.

Other Language Requirements:

Depending on the program and its focus, you may also need proficiency in one or more foreign languages. Some programs may require a certain level of proficiency in a language relevant to the region of the world you'll be studying or working in.

Standardized Tests (for Master's Programs)

Some master's programs may require standardized tests such as the GRE or GMAT. Be sure to check the specific admission requirements of the program you're interested in.

Work Experience (for Some Master's Programs)

Certain master's programs in International Management may prefer or require applicants to have prior work experience, often in a related field. The amount of required experience can vary.

Letters of Recommendation

You may be asked to provide letters of recommendation from academic or professional references who can vouch for your qualifications and potential as a student in the program.

Statement of Purpose/Personal Statement

Many programs require applicants to submit a statement of purpose or personal statement outlining their academic and career goals, as well as why they are interested in pursuing an "International Management degree".

Interview (Possibly)

Some programs may conduct interviews as part of their selection process to assess your suitability for the program.

Transcripts and Academic Records

You'll typically need to submit transcripts from your previous educational institutions to demonstrate your academic qualifications.

Application Fees

Prepare to pay application fees when submitting your application to universities or programs.