Exploring the Top Online MBA Degree Programs for Career Growth
January 5, 2022
2023-09-22 9:59
Exploring the Top Online MBA Degree Programs for Career Growth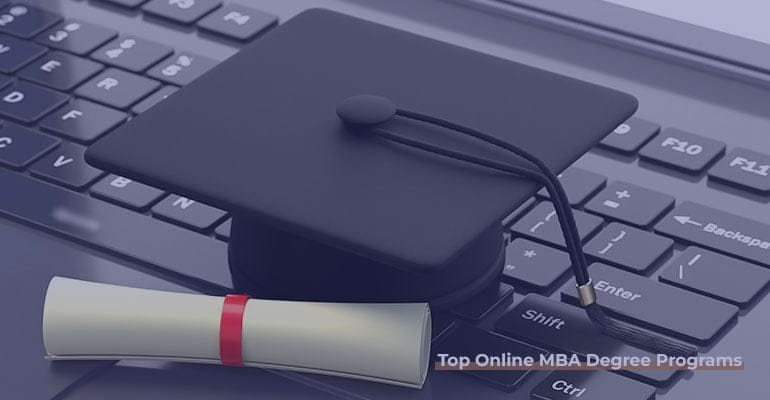 Exploring the Top Online MBA Degree Programs for Career Growth
In today's rapidly evolving job market, staying competitive and advancing in your career often requires a commitment to lifelong learning. One effective way to future-proof your career and enhance your qualifications is by pursuing the "top Online MBA degree". Top Online MBA Degree programs have gained immense popularity in recent years due to their flexibility, accessibility, and the ability to deliver high-quality education right to your doorstep. In this article, we will explore some of the top online MBA degree programs that can help you achieve career growth and success.
The Rise of the Top Online MBA Degree Programs
Traditional MBA programs have long been known for their prestige and value in the business world. However, not everyone can afford to put their careers on hold to pursue a full-time, on-campus MBA. Top Online MBA Degree programs have emerged as a practical alternative, enabling working professionals to earn an advanced degree without disrupting their careers.
Top Online MBA Degree Programs List
Geneva Business School's MBA
MBA in International Management
MBA in Project and Operations Management
MBA in Healthcare Management
MBA in Global Banking and Finance
MBA In Quality Management
MBA in Human Resource Management
MBA in Global Logistics and Supply Chain Management
MBA in Education Leadership and Management
MBA in Marketing Management
MBA in Information Technology
York St. John's MBA
Master Of Business Administration (MBA)
Top Up MBA
MBA in Finance
MBA in Healthcare Management
MBA Project and Operations Management
MBA in Quality Management
MBA in Strategic Human Resource Management and Leadership
Anglia Ruskin's Online MBA
You can also follow the UWS MSc in Project Management
Benefits of Pursuing The Top Online MBA Degree Programs
Pursuing one of the "top online MBA degree" programs can offer numerous benefits that can significantly impact your career and personal development. Here are some of the key advantages:
Enhanced Career Opportunities:

An MBA degree from a reputable program can open doors to a wide range of career opportunities. Employers often value the advanced skills and knowledge that MBA graduates bring to the table, which can lead to promotions, salary increases, and access to more senior positions.

Increased Earning Potential:

MBA graduates tend to earn higher salaries compared to those with only a bachelor's degree. The financial investment in an MBA program can pay off through increased earning potential over the course of your career.

Specialized Knowledge:

Many top online MBA programs offer specialization options, allowing you to focus your studies on a specific area of business, such as finance, marketing, entrepreneurship, or healthcare management. This specialized knowledge can make you a sought-after expert in your field.

Leadership Skills:

MBA programs often include coursework and experiences that develop leadership and management skills. These skills are valuable in any industry and can prepare you for leadership roles in your organization.

Networking Opportunities:

Top MBA programs typically have extensive alumni networks and connections with industry leaders. Building relationships with fellow students, alumni, and professors can provide valuable networking opportunities that can help you throughout your career.

Global Perspective:

Many online MBA programs have a diverse student body, which can expose you to different cultures, business practices, and perspectives. This global exposure can be invaluable in today's interconnected business world.

Entrepreneurial Skills:

If you have aspirations of starting your own business, an MBA program can provide you with the knowledge and skills needed to launch and manage a successful venture.

Problem-Solving Abilities:

MBA programs emphasize critical thinking and problem-solving, which are essential skills in the business world. You'll learn how to analyze complex issues and make data-driven decisions.

Flexibility:

Online MBA programs offer flexibility in terms of when and where you study. This flexibility is particularly valuable for working professionals who need to balance their education with their career and personal life.

Adaptability:

The business world is constantly evolving, and an MBA education can equip you with the ability to adapt to new challenges and changing industries. You'll learn how to stay up-to-date with emerging trends and technologies.

Personal Growth:

Pursuing an MBA is not just about career advancement; it's also an opportunity for personal growth and development. You'll gain confidence in your abilities and expand your horizons.

Credibility:

Graduating from a top online MBA program adds credibility to your resume. Employers and clients often view MBA graduates as highly qualified professionals.
Top Online MBA Programs for Career Growth
Before making a decision, it's important to research each program thoroughly, considering factors like accreditation, faculty credentials, alumni networks, and curriculum alignment with your career goals. Additionally, reach out to current students and alumni to gain insights into their experiences.
Conclusion
As the business landscape continues to evolve, having an MBA degree can give you a competitive edge and open doors to new career opportunities. The flexibility and accessibility of online MBA programs make them a viable option for working professionals seeking to advance their careers. By exploring the top online MBA degree programs and choosing the one that aligns with your goals and aspirations, you can embark on a journey toward career growth and long-term success.